Learning is a lifelong adventure, but education isn't always considered one. The way we learn can be quite different from how it's taught in school or that which you might read about on the internet. Instead of reading about learning online, why not try to see what students are actually doing and create an educational experience for them?
RSS FEED in education is a way that students can keep up with the latest news, articles and blog posts on their favorite websites. It is an easy way to stay updated without having to search for new information all the time.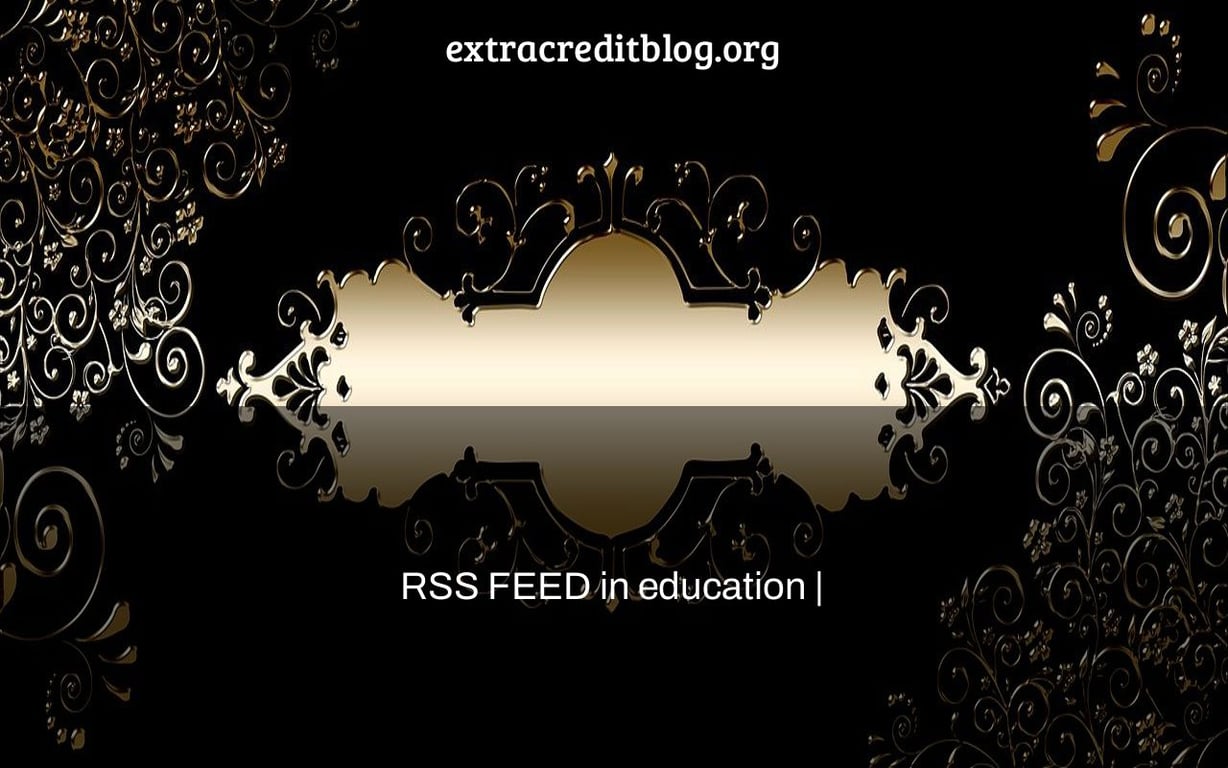 Really Simple Syndication (RSS) is an acronym for Really Simple Syndication. It's a kind of format for syndicating a website's content. A feed is what it's called when it delivers information.
What kind of feeds are available on the internet?
a whole feed and partial feed are the two major kinds of feed.
Full feed
If you establish a complete feed for your website or blog, subscribers to your feed will get the whole article you publish in their feed readers, eliminating the need for them to return to your site to read the entire thing.
a portion of the feed
This kind of feed simply contains a title or headline, a brief description of the material, and a link to the original content's location.
What value does a feed provide for internet users?
Rss feed is a service that every internet user, particularly educators and instructors, should have since it allows them to:
It keeps you up to date; all you have to do is set up your preferences, and the information will be at your doorstep.
It is a time saver: as you may be aware, in our fast-paced world with so much information to choose from, feeds save you time from going from site to site searching for information.
It organizes and preserves your online work so that you don't have to save websites for future reference if you forget where they are. How many times have we read something essential on the internet and then forgotten about it the following day when we want to go back to it because we can't remember where we discovered it? With feeds, the material will follow you rather than the other way around.
What's the difference between feeds and emails?
When it comes to content distribution techniques, emails are no longer a viable option. People are becoming more hesitant to share their email addresses for fear of spam and junk mail. Email subscriptions are no longer trusted, therefore the RSS feed has stepped in to fill the gap. It is a more secure distribution method, and subscriptions are anonymous, so there is no need to give out email addresses, and subscribers may simply unsubscribe if the material is no longer relevant to them.
What is the best way for me to read feeds?
A news reader or content aggregator is required to receive RSS feeds. You'll need a feed reader to receive the feeds, just as you'll need a phone to get calls.
To read your post and get the most out of it, you'll need a decent feed reader that allows you to personalize and organize your search and classify content. I personally use Google Reader, and I've even published an article on it called Google Reader in Education. I trust Google Reader because Google is deserving of everyone's trust on the internet. There are, however, other excellent readers, and if you'd like to test any of them, here's a list:
Watch This Video-
RSS FEED in education |
RSS FEED is a way for people to share their thoughts and ideas with others. RSS FEEDs are commonly used on blogs, social media sites, and news websites. They allow users to subscribe to the feed of any website or blog that they want. This article will discuss how RSS FEED can be used in education. Reference: rss feed url.
Frequently Asked Questions
What is a RSS feed used for?
A: RSS stands for Really Simple Syndication, and it is a system of information distribution which uses an XML file format to publish frequently updated content. This can be used by web sites or blogs to automatically download in rich text what they have published without any manual updates, such as news headlines or blog posts.
What are examples of RSS feeds?
A: RSS stands for Really Simple Syndication which is a format of distributing and sharing frequently updated information. You can find this on websites like Yahoo! News, TechCrunch, Forbes or in our case at BeatSaber.com/rss/. Its how you keep up with the latest news from us as we post them to the site automatically every day.
What is RSS feed source?
A: RSS is a protocol that allows websites to create an automatic update of content.
Related Tags
rss feed elementary education
higher education rss feeds
rss feed education week
rss feeds news
the chronicle of higher education rss feed