Blogs are becoming the most important tool in education. Blogging provides students with a unique space to express themselves and create an individualized learning experience. This guide will help you use blogging as part of your teaching plan, whether it's for high school or college courses.
Blogging has become a popular tool for educators to use in their classrooms. Blogs are an effective way to engage students and give them the opportunity to share their thoughts with others. Read more in detail here: blogging as an educational tool.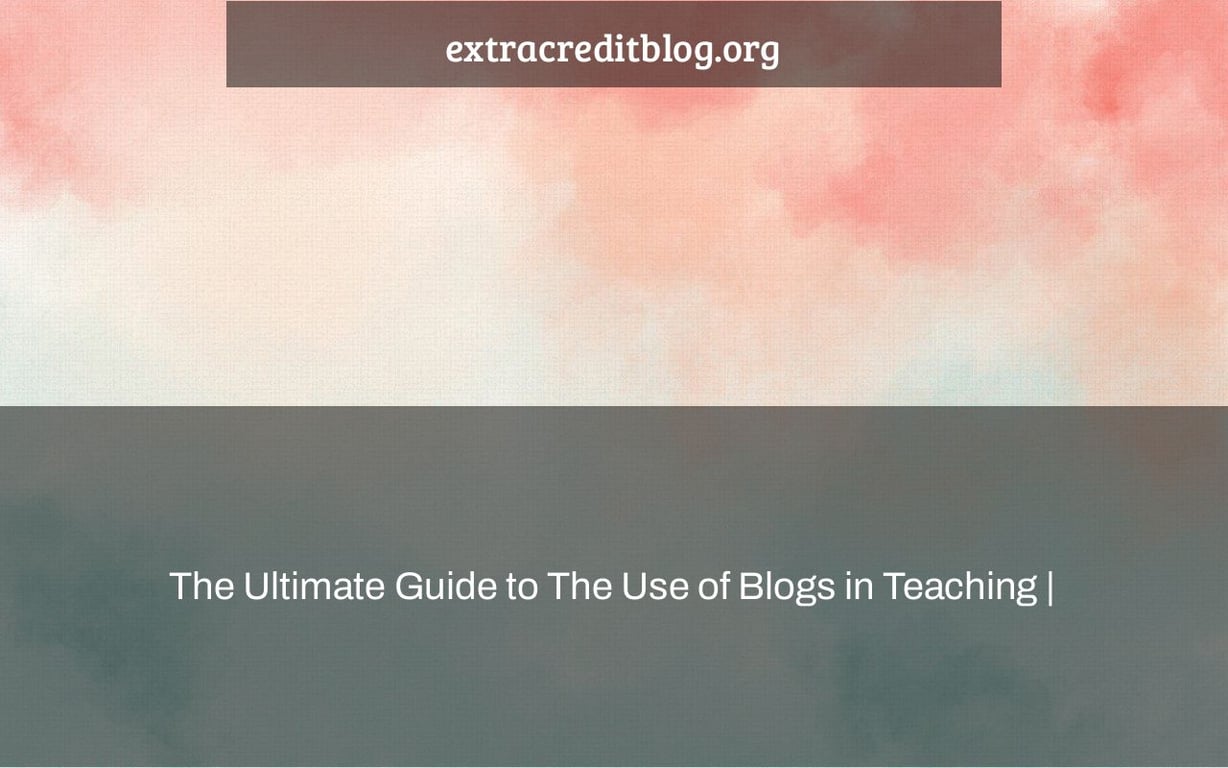 A- Edublogs is a free blogging platform for teachers and students. Edublogs, the world's most popular educational blogging service, allows you to rapidly modify and add videos while simply creating and managing student and instructor blogs.
B- Blogger is a Google-provided free weblog publishing platform for sharing text, pictures, and video. This is most likely the most user-friendly blogging platform available. You may create as many blogs as you like, and they will all be linked to your Google account.
WordPress (C) Another excellent blogging tool for kids and instructors that is both simple to use and totally free.
What is the best way to start a blog? It varies on the kind of blogging platform you'll be using, but in general, the procedure is simple and takes just a few minutes. Here are some examples of tutorials: How to Create an Edublog Blog How to Create a Blogger Blog How to create a WordPress blog. When it comes to creating a school blog, there are a few things to keep in mind.
Select a blogging platform that is suitable for your needs.
Understand why you'll use it in class and how you'll utilize it.
Recognize the characteristics that you and your students will need.
Create accounts for your students.
Know what you do if a student forgets their log-in credentials, and keep that information secure.
Ascertain that all of your pupils have fair and equal access to computers in order to complete their assignments.
Inform your parents and guardians about your plans.
Set the ground rules for the pupils.
Make an ethical code.
How to Use Blogging in the Classroom Here are some ideas for using blogs in the classroom by teachers:
Provide additional assignments for pupils to complete.
Allow students to collaborate in small groups to write and publish summaries of material presented in class in order to create a compendium of material covered over the course of a semester.
Encourage students to complete their writing tasks as blog entries.
Encourage students to provide feedback on one other's posts.
For peer learning, use blogs. Students should read their classmates' work and highlight any spelling or grammatical errors.
Use blogs in the classroom to allow students to post videos, clips, audio, text, and pictures.
Teachers may add a section specifically for internet links and referrals to other online resources.
Use activities, games, and puzzles to help kids learn more effectively.
Conduct an online poll about your students' learning requirements using blogs. You may also ask parents to participate in the questionnaires. Take a look at these free teacher survey tools.
Students may examine your classroom rules and code of behavior on your classroom blog.
Make a list of the goals and publish it ( general as well as specific goals )
Encourage your students to create, record, and publish lessons about topics they're learning.
Use a section of your blog for classroom news to provide basic classroom information. Work with kids to choose what kind of information they want to share with their parents, and then have them write and publish daily or weekly news updates.
Set weekly challenges for your pupils, such as a riddle or a brainteaser, that encourage them to think critically and imaginatively. Request that students submit their answers on the blog, and then have a class discussion about the solutions at the conclusion of the week. This will greatly enhance their problem-solving abilities.
Use your blog to communicate with both your pupils and their parents once again.
Successful blog examples
Here are some of the finest blogs that were nominated for the Edublogs awards in 2011.
Webliography: 1- Blogging in Education 2- Blogging to Connect 3- 11 benefits of blogging for teachers 4- Classroom instructional blog moderating and ethics 5- Is it necessary for all educators to blog? 6- Curriculum resourcing 7–14 Steps to Engaging Students in Meaningful Blogging 8–15 Brilliant Ideas for Using Blogs in the Classroom 9- Here's my 17-point checklist for teaching excellent writing and blogging skills. ten key steps for creating a school blog 11- Blogging for Education 12- A list of the top tools for instructors to use while creating student blogs
Watch This Video-
Blogs are a great way to share your thoughts and ideas with others. Blogs can be used in many different ways, but the most common uses for blogs include: sharing information, posting updates, asking questions, and creating discussion forums. Reference: uses of blogs.
Frequently Asked Questions
How can we use blog in teaching and learning?
A:
Teaching means introducing new information to students and learning is the process of acquiring knowledge through instruction. Blogs can be used in both teaching and learning because they are a way for educators, professors, or students to share their thoughts on important topics that might not otherwise be available in traditional instructional material such as books or articles.
Every educator has a different role when it comes to blogging but this list will give you an idea about what can bloggers do–from creating lesson plans for educational blogs with rubrics all the way up to writing book reviews of novels written by authors who have never been reviewed before.
The great thing about using blog posts as part of your course materials is that theyre free! They provide teachers with tons of valuable resources including photos, videos, quotes from famous people (like me), interesting links related to your topic, tweets relevant or tangential related content (#edtechtweets). This particular post also includes some recommended reading lists which I think would make excellent supplemental texts.
Why are blogs important in education?
How blogging can be used in educational communication?
A: Blogging is a type of communication that includes writing, an image and posting on the internet. It can be used in educational settings for students to share thoughts about their learning experiences online with other people who are interested in those topics as well.
Related Tags
importance of blog in education
how will you intend to use blog in your studies
importance of blog in education pdf
how will you intend to use wiki and blog in your studies
blogging assignments for students