Google Docs has been a staple in the education world for years, and it still offers many benefits to students and teachers. This article discusses some of these benefits as well as how Google Document can benefit you by teaching your students more quickly than they could otherwise learn about this new desktop tool.
Google Docs is a powerful tool that can be used in the primary classroom. With this easy guide, teachers will learn how to use Google Docs with their students.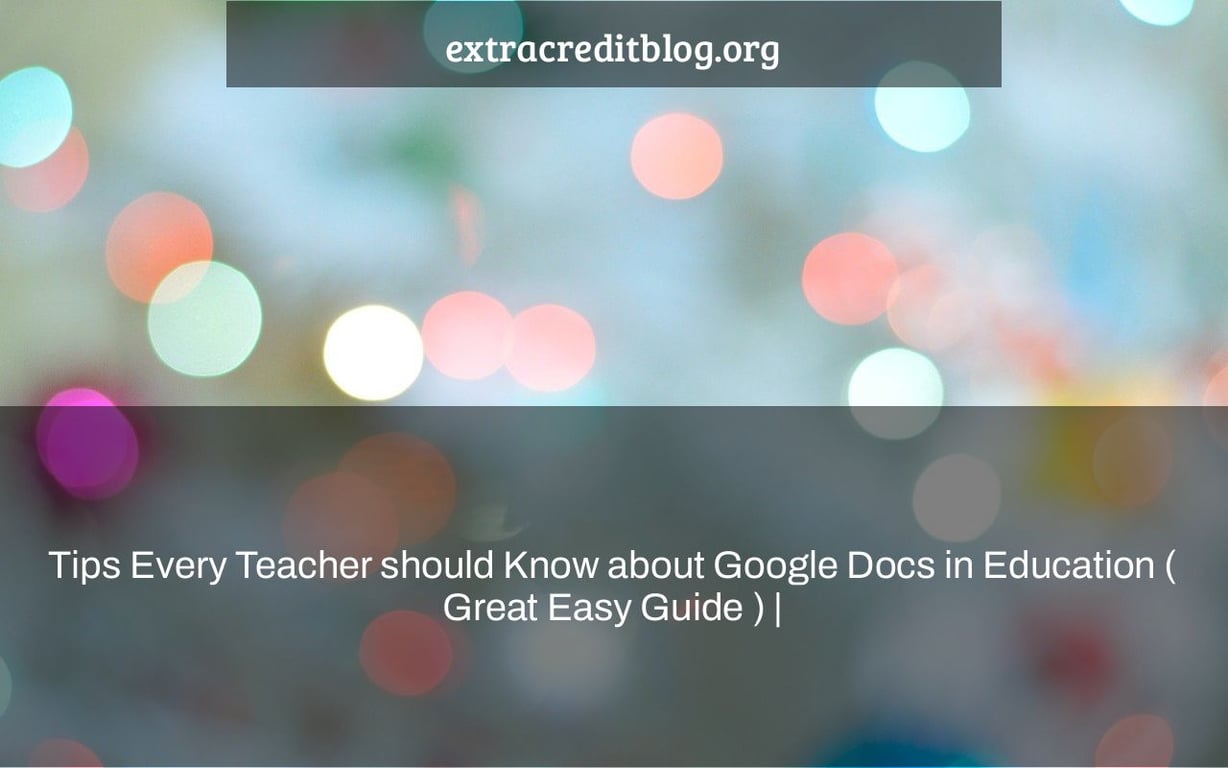 Here's a rundown of some of Google Docs' greatest features that teachers should be aware of:
It is both free and simple to use.
It features an easy-to-use UI.
It allows you to create Google docs, spreadsheets, and other kinds of files and folders.
It allows you to manage and save files and folders by allowing you to upload, manage, and store them.
It lets you share Google Docs, files, and collections with others.
You may get a preview of your documents and files before opening or sharing them.
You may also look at the pictures and movies you've saved to your document library.
It allows you to search for objects based on their name, kind, and visibility level.
It enables users to work on documents together in real time.
It also has a chat feature that collaborators may utilize while working on documents.
Teachers' Google Docs Templates Many Google Docs users are unaware that templates may help them breathe new life into their projects. Google Docs' new templates make it quick and simple to generate a variety of documents. More than 300 templates for text documents, spreadsheets, and presentations may be found in this collection. All of the templates are free, and you can download any of them with a single click.
Teachers may learn how to use Google Docs in a simple manner. Below are some of the lessons we've put together to guide you through the various procedures for creating and managing Google Docs services. To get the lesson for any title, just click on it:
Documents I :
To read the instruction, just click on any of the titles.
Presentations (Second): Spreadsheets (III): IV- Drawings : V- Forms VI- Offline work IIV- Use a Screen Reader with Google Docs
d.callBack(); randomRelatedIndexlk = h; showRelatedPostlk = g; j(d.homePage.replace(/$/, "") + "/feeds/posts/summary" + e + "?alt=json-in-script&orderby=updated&max-results=0&callback=randomRelatedIndexlk") )(window, document
Watch This Video-
Google Docs is a great tool for teachers. It allows students to create, edit, and share documents with other students in real time. This easy guide will show you how to use Google Docs in Education. Reference: google docs for teachers.
Frequently Asked Questions
How do teachers use Google Docs?
A: Teachers can create Google Docs for their students to collaborate on projects or use as a tool in the classroom. They are also able to submit reports that are shared with parents, school administrators, and other teachers via email.
What teachers should know about Google classroom?
A: Google classroom is a learning platform that allows teachers to create and share interactive digital lesson plans. It can also be used by students who are working on individualized projects, or the teachers entire class at once. The best thing about this system is that it isnt just limited to classrooms-it can reach out across schools, allowing parents to view what their children are doing during school hours, as well as providing access for students in other countries.
Why do teachers use Google Docs?
A: Teachers use Google Docs for many reasons. One reason is that they want access to the file from multiple devices, so students can easily access their work on any device. Another reason teachers will use Google Docs is because it allows them to keep an eye on every students progress at all times and also see what each student has been working on throughout the course of class time as well as during extra-curricular activities such as group collaborations or individual projects outside of school hours
Related Tags
google docs tips for students
google docs ideas for teachers
google docs hacks for students
google docs features for teachers
google docs exercises